Why Finland Won the 2006 Eurovision Song Contest
Created 2006-05-21. Last update 2007-05-15.

Tämä sivu on / Refer to this page as
http://www.iki.fi/leopold/Eurovision/2006/Win.html

Kommenteillesi / For your comments:


Finland's Eurovision 2006 Song Contest win is not even one day old. But already there is debate of why the monster rock group Lordi won and how this will change the song contest. I've decided to analyze the finalists in ranking order to see if we can find a reason why our contestant got more points than anyone ever.
---
Songs
Legend: Each entry contains the position in the final, performer number, points in the final, country name and song name. An asterisk (*) is added if there is lots of skin / pelvic thrusts / arse jiggling etc in the performance.
17. 292 points, Finland: Rock'N'Roll Hallelujah
A song that might have made in the 1980's if Kiss, Dio and Twisted Sister had put their efforts together. Yet, a quarter of a century later this is ground-breaking and 100% fresh in the Eurovision Song Contest which is still living the 1970's. With 20/20 hindsight, how fitting the following lyrics are: "On the day of Rockoning / It's who dares, wins / You will see the jokers / soon'll be the new kings". Is this song the best song ever? Hell no, it's just bubble-gum heavy-pop. Is the song catchy? Certainly. Was it by far the best song of this year's contest and deserving of the highest Eurovision points ever? Hell yes!

10. 248 points, Russia: Never Let You Go
Boring song with some half-interesting rhythms but completely bland love ballad lyrics. The ballerinas that enter the stage at the very moment we can hear scratch samples from the soundtrack are a nice touch. Came second because there are so many Slavic nations in Eurovision these days. Nevertheless, ballerinas win arse-jigglers.
13. 229 points, Bosnia and Herzegovina: Lejla
Slightly forgettable, but touching low-key song with an equally low-key performance. I could listen to this song again, so I'm happy to say that me and my wife gave our first ever Eurovision votes to it. Obviously we were not alone as Finland gave this song 10 points.
12. 172 points, Romania: Tornerò
Pure 1980's Italo disco hit material. Twenty years ago the Italians made this song so many times one would have thought the idea would have been beaten to death. One thing though: this is one of the perhaps three songs that were genuinely catchy. I don't understand why, but so it is.
22. 170 points, Sweden: Invincible
The members of Abba should sue Carola for ripping The Winner Takes It All. Carola obviously can still sing but really, this is not the 1970's anymore.

I'll tell you a story about Carola. She is supposedly deeply religious, wanting to cure homosexuals with prayer and so on. I remember a picture I saw in the early 1980's when she was hot news for the first time. In that photo Carola is kneeling in a church being pious and everything. And the shorts and t-shirt she was wearing were really small and tight. Bah!

14. 162 points, Lithuania: We Are the Winners
The seminal protest song. But, notice to other contestants: there are many things done absolutely right in this song. First of all, the song doesn't take a minute to start. Second, as annoying and simplistic as the tune is, I actually rememberer it after first hearing! The song is not bland, so you will remember it by voting time! This must have been one of the reasons for its success. Another reason I'd like to think is that it didn't have arse-jigglers in it, and there was energy in the performance. And the third reason must be that they obviously had hired Urho Kekkonen to the band (just look at the performance of the bald guy).
18. 145 points, Ukraine, *: Show Me Your Love
Pseudo-latino song with considerably open cleavage and some arse-jiggling. Had the misfortune of being performed right after Hard Rock Hallelujah.
24. 129 points, Armenia: Without Your Love
First-time performer didn't do bad at all. But what were the four women doing on stage? Oh, they were dancers and completely peripheral to the actual song. Ok.
16. 128 points, Greece: Everything
Very basic, uplifting love ballad. Performance with only one woman on stage with wind machines, very much like Carola. Broke Eurovision's rules set to Lordi by using some pyrotechnics in the final although they didn't do such a thing when practising. (Lordi had to pay an exorbitant sum because it was required that if they wanted pyrotechics in their performance they should also be used in practise. And they weren't allowed to use their own pyros, but they had to buy them from the Official Source, for a hefty price. So they almost decided they can't come, but luckily two heavy-metal festivals quickly collected the missing dough. But back to the Greek entry.) Only one word is needed: forgettable.
21. 93 points, Ireland: Every Song is a Cry for Love
This could have been called Every Song Like This Is a Cry for Help. I mean, how boring can you make a song this short?
23. 91 points, Turkey, *: Süperstar
The all-too-short dress of the lead singer has been compensated for by a four-member boy dancer group in the background. The song has energy but no point. Using hands to form a star during the performance was a nice touch.
11. 56 points, Macedonia, *: Ninanajna
Not completely bad song, but had the cleavage of the lead singer been one centimeter more open, her thingies would have fallen out. Serious multi-woman arse-jiggling towards the end of the song.
20. 56 points, Croatia, *: Moja Stikla
Not that bad but the folkish song is destroyed before it even starts because the lead singer opens her long skirt so that you can almost see her youknowwhat. And then she drops the skirt completely. Why, oh why destroy a perfectly acceptable folk performance this way?
5. 36 points, Norway: Alvedansen
Song contains many same elements as the song Vandraren by the very popular Swedish heavy-metal-turned-folk singer Nordman. The difference is that the elements are presented boringly so that it will be impossible to remember anything about the song afterwards. Just makes me think how high Nordman could have scored if he had participated when Vandraren was hot. All in all, not a completely loser song, but it would have needed more oomph.
8. 36 points, Germany: No No Never
Totally gay country & western song that we've heard a million times before. Makes you miss the good old days when Germans produced Eurovision performers like Dschinghis Khan. Ok, Dschinghis Khan was also totally gay, but it was fun, their entry rocked and Khan is still played and covered today.
4. 30 points, Latvia: I Hear Your Heart
Six-member a cappella group performing a perfectly forgettable song. Couldn't they have tried something with at least half a ball in it? I mean other than the cute robot.
1. 30 points, Switzerland: If We All Give a Little
Very classical Eurovision song with wishy-washy lyrics. The dragging song goes nowhere.
9. 26 points, Denmark, *: Twist of Love
Oh, a twist song. With the word "twist" in the name. How original. We've heard this song only one gazillion times before. "Luckily" there are five scantily-clothed women jumping around. And the breakdancer.
15. 25 points, United Kingdom, ***: Teenage Life
The most obnoxious performance of the whole show. I am not so much inclined to paedophilia that I'd enjoy looking at a performance where you are supposed to peek below the skirts of 30-year old "school girls". This performance ended up as being one of the very last in the list. It should have, however, ended up in court.

(PS. I've now (060524) read tons of UK and Irish banter about how rigged the Eurovision contest is and how UK has absolutely no chance of winning because of block voting. In the light that the winner this year was a country that has consistently ended up in the bottom 5, how about simply admitting that your entry was garbage and then shutting up!)
(PS2. (070515) Ok, in 2007 UK made a brave attempt to end up even worse. Congratulations for your success!)

2. 22 points, Moldova, *: Loca
Dragging love song. One of the performers has one of the smallest bras in the contest. Also contains arse-jiggling. Molvania's I am the Antipope would have bettered this. "Long live Molvania, long live space race!"
6. 18 points, Spain, *: Bloody Mary
A song that we've heard by the same group several times before. The tomato sauce girls can't sing but try to compensate with some minor arse-jiggling and by being kissed by a bald dancer woman.
19. 5 points, France: Il était temps
Proof that you don't need arse-jiggling to end up at the end of the point scale. This song isn't actually as bad as the points would indicate. There's just nothing to remember in it.
3. 4 points, Israel: Together We Are One
Israel is not known for its negro gospel singers. This song may show us a reason why.
7. 1 point, Malta, *: I Do
Forgettable song with arse-jiggling dancer girls.
---
Analysis
Sex
It is a widely accepted fact that sex sells. And more sex sells more. Of the 24 finalists, there were 9 performances with sexual innuendo (even more so in the semi-finals).

However, if sex sells so well, how can it be that of the top-8 performances there was only one with sex elements in it? All other seven top-8 performers relied on other ways to make a show. In the bottom-8 there are five performances with sexual content, including the revolting UK number that should have been banned (where were the religious fanatics with this one?).

So, all in all: if there is too much skin, you grow tired of it and you vote something else. Like, say, cool monsters who didn't calculate their coreography with Excel.
Song and Performance
One of the reasons Finland has not made it even in the top half in the Eurovision contest in the last quarter century is that we had not understood that the Eurovision Song Contest is really not a song contest. It is a song and performance contest. So when we finally had a group with both a song and a performance, that was it.

The other reason for Finland's bad success has of course been that our songs have been crap. If there have been interesting entries in the national semifinals, they've been voted down by the middle-aged majority. I still wonder how Lordi got out of his cage this year. Perhaps because his song was not a Eurovision song by design: it's just a track from the group's newest album. For instance our internationally acclaimed operatic heavy metal group Nightwish failed a few years ago the national semifinals partly because they made their entry conform with the Eurovision formula: it was boring. Oh, and then there was this "expert panel" that voted Nighwish's song out although it was the clear favourite of the people. Luckily this year there were no expert votes.
The Semifinal Advantage
I strongly believe that songs that go through the semifinals have an advantage. A catchy tune has a chance to become familiar during semi-finals. So in the final you have already heard the song and, again, if the tune is catchy, you have a chance to reinforce your familiarity with the audience. And if there is controversy, you have more time to deal with it. This certainly worked to the advantage to Lordi.

The corollary is, of course, that the countries who had paid for their seat in the finals (UK, France, Germany and Spain) are doing themselves a great disservice. They don't need to struggle to get to the finals so there is little incentive to create the best songs. Also they don't get their songs known in the semifinals. How to prove this is so? This year's positions for the four big countries were 15, 19, 21 and 22 (of 24 finalists). Do yourself a favour: don't require that you get a place in the finals just because you pay more than others.
---
Eurovision A.L. (After Lordi)
When I was a kid my family always watched the Eurovision Song Contest. We tuned our TV and radio on the contest channel to be able to hear everything in glorious stereo. And we watched.

However, sometime during the late 1980's I stopped watching because the contest clearly wasn't going anywhere. The songs were just as interesting as 292 bricks in a wall. I had better things to do with my life.

Now, suddenly, there is an off-chance that the Eurovision Song Contest might again be a place where new interesting music will emerge. This will happen if only we can encourage diversity instead of the conformity that we've seen in the contest during the last 20 years.

Thanks for your votes, Europe. We'll meet next year in Finland and hopefully we'll see a new kind of Eurovision Song Contest with many exciting new groups and performances. But please, no Lordi clones. You should try someting different, not the same old. A change in the Eurovision Song Contest has begun. Let's change it for good.
---
PS. 2006-05-24:
As much as I've critisized Sony BMG for their evil copy protection schemes, the facts of this case is as follows: it was Sony BMG's representative who had the daring idea of inviting Lordi to the national semifinals. There. It wasn't that hard to admit.

The newest Lordi album, The Arockalypse, is reportedly not copy protected but a real, actual CD. Thus I'm going to buy it as soon as I have the chance. Not that I like Lordi so much that I would really need the album, but I like to put my money where my mouth is. So off to the record store.
---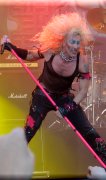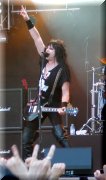 PS2 2006-06-11:
I am now a proud owner of The Arockalypse. As suspected, it wasn't really to my taste. And, as is usual with modern music, the CD is compressed to hell so it doesn't sound that good either. Nevertheless, Lordi's win made me go to the Sauna Open Air festival where, in addition to Lordi, the old farts Wasp and Twisted Sister gave superb performances.

---


©2006 Henrik Herranen